Bed & breakfasts in Friesland
7.5
€ 40 - € 100 per night
The farm and B&B is located near the nature reserve Rottige Meenthe. An excellent starting point for hiking, cycling, canoeing and / or ice skating.
€ 39 - € 60 per night
Under the shadow of Leeuwarden Leeuwarden you find the Bed and Breakfast Molenzicht. Private sunbathing in the large garden at the sails to Leeuwarden
On the edge of the small village of Aalsum nearby Dokkum, the northernmost city of the Netherlands, the monumental farm dominates the countryside.
€ 45 - € 55 per night
Welcome to B&B Appelscha in the Drents-Friese wold with free parking and Wifi, the N381 Emmen-Leeuwarden. You will find 3 luxurious comfortable rooms.
Ring up and you will be warmly welcomed by the owner of the house. She loves having people to stay and she will treat you like a special guest.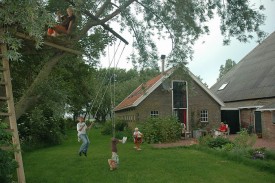 € 60 - € 80 per night
Do you want to spend the night in a stable, or sleep on a hay attic? Such a special apartment / B&B you will find if you come to Wyns, Friesland.
Leeuwarden
€ 65 per night
Dongeradeel
€ 60 - € 85 per night
Dongeradeel
€ 70 per night
Skarsterlan (Joure)
€ 50 - € 55 per night