Bed & breakfasts in South Holland

€ 85 - € 100 per night
At work or you want to explore this unique region in the Netherlands ? B&B margriethof.nl is the place to stay with B&B rooms in modern comfort
In the middle of the Krimpenerwaard find our farmhouse from 1890. We bought this farm and these have been lovingly renovated to house and B & B
€ 65 per night
This cozy and comfortable bed and breakfast is located near the beach, sea and dutch dunes.
9.2
The Peperhoeve is a large farm dated 1915 situated in the quiet Peperstraat in Oud Alblas, a small village in the Graafstroom district.
€ 60 per night
Stay in style once and reveal a well kept secret! A cosy, spacious and romantic accommodation in a monumental house, situated along a canal.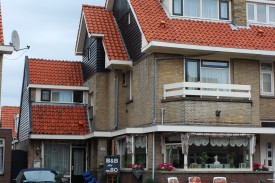 8.0
€ 58 - € 75 per night
Our B&B is situated in a Landlord House with 2 rooms Shower/Toilet.
Zuid-Beijerland
€ 65 per night
Den Haag
€ 75 - € 85 per night
Schipluiden
€ 90 per night
Dordrecht
€ 90 - € 95 per night