Home > B&B Benitachell
Bed & breakfasts, guest rooms and B&B's in Benitachell
Looking for a B&B in Benitachell? Take a look below for a bed and breakfast in Benitachell. Change the options on the left-hand side to find more results.
Bed & breakfasts less than 10 km from Benitachell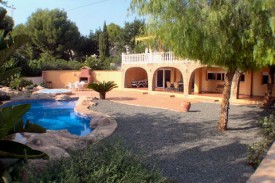 € 56 - € 75 per night
On a breathtaking place only 800 meters from the Mediterranean sea and 1500 meters from the city of Calpe with their beautiful boulevards.
10.0
€ 90 - € 120 per night
Wonderful Finca situated in Benitachell, 5 km from Moraira port and 7 km to Javea beach. Very quiet situation with outstanding view to the sea.
7.6
€ 50 - € 65 per night
Enjoy the sun, the gastronomy, the rest and the service. Each room has its ensuite bathroom with toilet and shower and has air conditioning.
Bed & breakfasts less than 20 km from Benitachell
Bed & breakfasts less than 30 km from Benitachell
Benigembla, alicante
€ 65 - € 75 per night
Castell de Castells
€ 75 - € 85 per night
Bed & breakfasts less than 40 km from Benitachell
Sella
€ 65 - € 82 per night
Bed & breakfasts less than 100 km from Benitachell