Home > Holiday home Roosdaal
Holiday homes, holiday apartments and self-catering flats in Roosdaal
Looking for a B&B holiday home in Roosdaal? Take a look below for a choice of 2 holiday homes, holiday apartments and self-catering flats in Roosdaal. Use the options on the left-hand side to further refine your selection.
Holiday homes less than 10 km from Roosdaal
max. 5 people
Firmin and Regine De Valck - Van Den Bossche welcome you in the guesthouse to Roosdaal in the beautiful rolling Pajottenland!
7.9
€ 600 - € 650 per week max. 6 people
A warm welcome is guaranteed at De Rode Beuk, our holiday house in Haaltert, a town in the province of East Flanders, Belgium.
Holiday homes less than 20 km from Roosdaal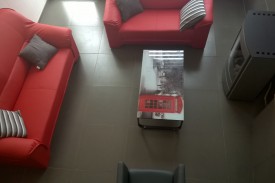 recommended
€ 575 per week max. 6 people
The Kapelmuur is a completely remodeled cozy townhouse in a quiet side street near the top of the "Vesten" and "The Wall of Geraardsbergen"
Geraardsbergen
€ 1175 per week
max. 16 people
Herne
€ 500 per week
max. 2 people
Holiday homes less than 30 km from Roosdaal
Ghoy
€ 420 - € 600 per week
max. 6 people
Schellebelle
max. 6 people
Brussel/Etterbeek
max. 6 people
Brakel - Everbeek
€ 700 - € 760 per weekend
max. 22 people
Ittre
€ 240 - € 285 per week
max. 4 people
Braine-le-Chateau
€ 700 - € 950 per week
max. 8 people
Everbeek (Brakel)
max. 4 people